BEHIND THE BOOK: Overcoming Adversity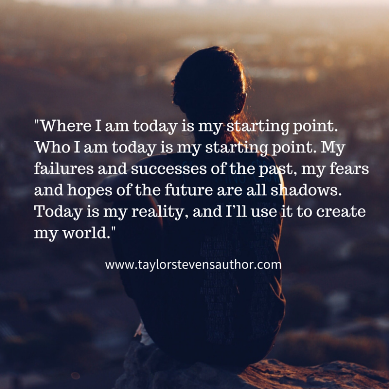 Sitting on my hard drive is a collection of personal quotes written during the bleak years, when my now ex-husband and I were still very new out of the cult we'd been born into, still trying to adjust to this thing called "real life."
We'd come from Europe to the United States believing that we'd have more opportunity to make something of our lives here. Hopping continents for the second time in two years meant packing up two toddlers and everything we owned (which fit into about eight suitcases) and taking a leap of faith. We'd arranged a roof over our heads in Dallas, but no employment, and didn't have much idea, really, of what we'd have to do to get jobs. Just knew it had to be done and that failure wasn't an option.
It was rough going for a long while. We never doubted that we'd made the right decision no matter how difficult it got, but that didn't stop overwhelming frustration and exhaustion from taking over while we struggled to gain some foothold, some traction, without any of the education, social experience, or family and friend support structure that most people take for granted.
That's what was going on when I wrote the quote collection. These thoughts of eventual triumph came from a place of rock bottom, a place of knowing that if I wanted to achieve anything with my life, I had to first figure out what I wanted, and then chase it with every ounce of strength I had left.
I share a few of these quotes here with you now, but because they're extremely personal I hesitate to do it without first providing that little background on how they came to be:
Where I am today is my starting point. Who I am today is my starting point. My failures and successes of the past, my fears and hopes of the future are all shadows. Today is my reality and I'll use it to create my world.
* * *
Dreams are the building blocks of a better tomorrow; action is the mortar that holds them together. One without the other is a pile of rubble.
* * *
Upgrading negative self-talk to positive self-talk is an incredible amount of work, but it pays extremely well.
* * *
You can have your cake and eat it too, if you know how to make the cake.
* * *
You say that I can't do it, but what you really mean is that you can't do it and that you are afraid to try. You are not me.
* * *
With a little imagination and a little bit of tweaking, the "impossible" can become "it's possible."
* * *
You are powerful enough to prevent other peoples' frames of reference from dictating your potential.
* * *
Drink in life and feel it deeply; experience wonder at being alive. Because life is precious and there is joy in that simple thought.
Everything I've learned about the publishing industry, writing, the art of storytelling, and the struggle to overcome is shared freely through email via the webform below. I have no idea where this journey will take me, but I'd love for you to be a part of it with me.
Taylor Stevens is an award-winning and New York Times bestselling novelist who—by odds and expectations—should never have become either successful or published. Like many aspiring authors Stevens had no credentials or platform, and no direct route into the publishing world. But, unlike most, she was also limited by a life of cultural isolation and a sixth-grade education.
Born into an apocalyptic cult and raised in communes across the globe, Stevens grew up as a child laborer, cooking and cleaning for up to a hundred at a time, caring for younger commune children, or out on the streets begging on behalf of commune leaders. Books, movies, music, and pop-culture from the outside world were strictly forbidden, and she finally gained unlimited access to fiction after returning to the United States in her early thirties. Her books have since been published in over twenty languages, with The Informationist optioned for film by James Cameron's production company, Lightstorm Entertainment.

* * *
If you've enjoyed this peek behind the book and would like more, email is where I share everything I've learned about writing, publishing, and the struggle to overcome. Please come join me on this crazy ride.